Reach out to us and come see for yourself.
You're invited to drop-in and see what the Crossfit Bondi gym and its community is all about. Call us now to arrange a visit or to discuss the Crossfit experience and how it will benefit you.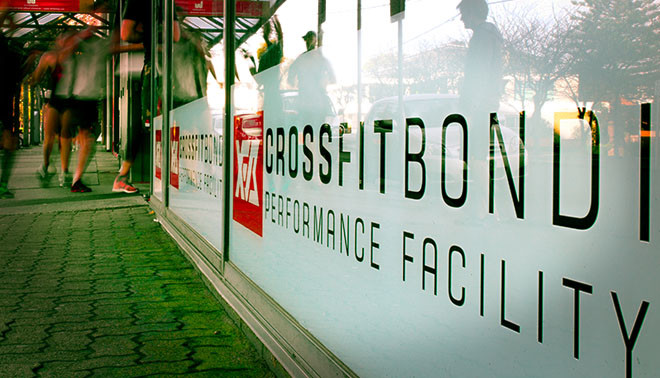 For those who prefer email:
<!-- INSERT THIS CODE INTO YOUR WEBSITE TO HAVE LEADS SUBMIT THEIR INFORMATION TO WODIFY REMOTELY - LEAD FORM 2.0 -->
<script type='text/javascript'> if(!document.getElementById('recaptcha')){var script=document.createElement('script');script.id='recaptcha';script.src='https://www.google.com/recaptcha/api.js';document.head.appendChild(script);}
var validationUrl='//app.wodify.com/API/WebToLeadFormPostEntry_v1.aspx?ResponseField=';var reCaptchaValidated=false;function callbackFunc(data){document.getElementById('recaptcha_response_field').value=data;validationUrl+=data;if(data){reCaptchaValidated=true;}}function validateWodifyLeadForm(){var reEmail = /^[a-zA-Z0-9.!#$%&'*+/=?^_`{|}~-]+@[a-zA-Z0-9-]+(?:\.[a-zA-Z0-9-]+)*$/;var returnValue = true;var fieldname=document.forms['wodifyLeadForm']['name'].value; if(fieldname==null||fieldname=='') {document.getElementById('errorname').style.display='inline';returnValue=false;} else {document.getElementById('errorname').style.display='none';}var fieldemail=document.forms['wodifyLeadForm']['email'].value; if(fieldemail==null||fieldemail==''||!reEmail.test(fieldemail)) {document.getElementById('erroremail').style.display='inline';returnValue=false;} else {document.getElementById('erroremail').style.display='none';}if(!reCaptchaValidated){document.getElementById('errorCAPTCHA').style.display='inline';return false;} return returnValue;
}; </script>
<form action="https://app.wodify.com/API/WebToLeadFormPostEntry_v1.aspx?" accept-charset="UTF-8" method="POST" id="wodifyLeadForm" name="wodifyLeadForm" onsubmit="return validateWodifyLeadForm();">
<div class="wodify-form-group wodify-form-group-name">
<label for="name">Name <span class="asterisk">*</span></label><input type="text" name="name" maxlength="50" required data-required></input> <span id="errorname" name="errorname" style="display: none; color: #cc2626;"> Required field!</span></div><div class="wodify-form-group wodify-form-group-email">
<label for="email">Email <span class="asterisk">*</span></label><input type="email" name="email" maxlength="250" required data-required></input> <span id="erroremail" name="erroremail" style="display: none; color: #cc2626;"> Required field!</span></div><div class="wodify-form-group wodify-form-group-phone">
<label for="phone">Phone</label><input type="number" name="phone" maxlength="20"></input></div><div class="wodify-form-group wodify-form-group-city">
<label for="city">City</label><input type="text" name="city" maxlength="50"></input></div><div class="wodify-form-group wodify-form-group-province">
<label for="province">Province</label><input type="text" name="province" maxlength="50"></input></div><div class="wodify-form-group wodify-form-group-dateofbirth"><label for="dateofbirth">Date Of Birth</label><input type="date" name="dateofbirth"></input></div><div class="wodify-form-group wodify-form-group-leadsource"><label for="leadsource">How Did You Hear About Us</label><select name="leadsource"><option value="">-</option><option value="Friend/Family">Friend/Family</option><option value="Facebook">Facebook</option><option value="Google/Search Engine">Google/Search Engine</option><option value="SMS">SMS</option><option value="Online Sales">Online Sales</option><option value="Other">Other</option></select></div><div class="wodify-form-group wodify-form-group-referredby">
<label for="referredby">Referred By</label><input type="text" name="referredby" maxlength="1000"></input></div><div class="wodify-form-group wodify-form-group-comments"><label for="comments">Comments</label><textarea name="comments" maxlength="2000" rows="4" cols="50"></textarea> </div><div class="wodify-form-group wodify-form-group-recaptcha" ><div class='g-recaptcha' data-sitekey='6LczBvUUAAAAANfnYqsof5KlE8G0fn4zfigd33L9' data-callback='callbackFunc'></div>
<input type='hidden' id='recaptcha_response_field' name='recaptcha_response_field' value='manual_challenge' style='margin-top:20px;'><span id="errorCAPTCHA" name="errorCAPTCHA" style="display: none; color: #cc2626;"> Invalid reCAPTCHA!</span><input type="hidden" id="usecaptcha" name="usecaptcha" value="true"></input></div>
<div class="wodify-form-group wodify-form-group-submit">
<input type="hidden" name="apikey" value="d2npvu2u2m">
<input type="submit" value="Submit">
</div>
</form>
Finding us:
Crossfit Bondi Gym is conveniently located in Bondi Junction, Sydney. On the corner of Newland & Ebley Street, with entry via Ebley Street.
Crossfit Bondi Performance Gym - Sydney
Shop 2/31 Newland Street
Bondi Junction – Sydney.
2021