What a day the fundraiser on Saturday 27th June was! A big thank you to all the people who gave time to produce the event and to the teams who really went above and beyond in fundraising efforts.
In all we raised around $6000 for Fascioscapulahumeral Muscular Dystrophy research which was $2000 above our original target.
The 12 hour row relay went off without a hitch – the rower moved continuously from 5.30am to 5.30pm with a big crowd at the end there to cheer on MAPOWER and crack some celebratory beers. With every team putting in a max effort we rowed a total distance of 177 kilometres.  That's a big score to try and beat next year.
Some of the teams dressed up, which has inspired us to theme 2016 event – watch this space for more details – or tell us your ideas?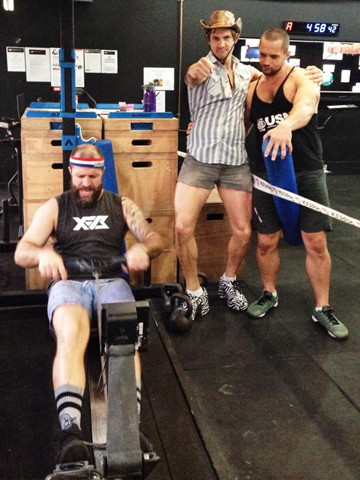 Big thanks to Mega and our friends at Macelleria for helping us put on a great BBQ – and the best dang burgers ever turned out by the XFB park grill.  Reebok showed their usual generosity with great prizes which were well earned and super appreciated and O Superfoods staged an office-nook takeover, making delicious smoothies for gold coin donations. All proceeds went to our charity cause – thanks to our partners' participation.
XFB's interest in supporting FSHD is rooted in the great friendship between CrossFit Bondi's co-owner Glenn Ryan and Justin Reid, who has advanced FSHD. Justin was diagnosed with FSHD when he was 13, and now as an adult, is limited in his physical abilities. He is a great bloke who is dedicated to raising funds to support research into this disease and is behind this great team effort. It was great to see him at the event and we will look forward to getting behind this cause again in 2016.
Well done TEAM XFB!