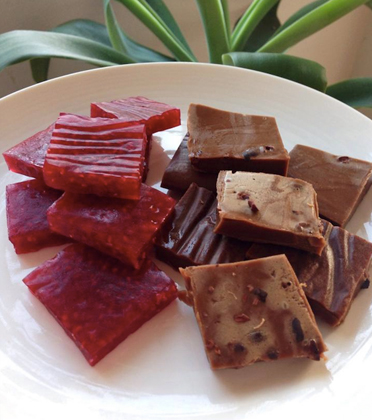 Do you know about gelatin and its endless health benefits. If you haven't, here are a few of its amazing qualities:
– Amazing source of protein (90% protein easily assimilated by the human body).
– Helps us break down fat and protein (good for when you have that steak at dinner).
– Promotes rapid reproduction of blood cells/cell growth for healing and conditioning – think bones/lubricates joints/builds tissue. Perfect for those sore muscles.
– It's an anti-ageing product… Hello ladies!
– Great for hair, skin and nails.
You can read more (there are so many benefits) and purchase some from here: http://bit.ly/ZuvfXS.
Now there are two types: the green canister is perfect to add in to smoothies or water, first up in the morning and before bedtime. This one does not solidify so you can add it to cold liquids. The orange canister is the one used in this recipe because it turns to a solid when it hits cold water (hence why it wouldn't be great in a smoothie).
These jellies are delicious, you can get creative with the ingredients and experiment with different berries. Strawberry would taste awesome.
Raspberry Jellies:
1 3/4 cup frozen raspberries
Juice of 2 lemons
4 Tbsp Great Lakes Gelatin
½ cup boiling water
½ cold water
1 Tbsp sweetener if desired
Line a baking tray with baking paper or get creative with different shaped molds. In a saucepan heat your berries gently with the lemon juice. Mash or blend with a handheld blender until mixture is relatively smooth. Set aside.
Boil your jug, place gelatin in a bowl, set aside your cold water. You need to have everything ready to go. One the water is boiled measure out half a cup. Pour the cold water into the gelatin and whisk quickly with a fork to combine and form a gel. Add the boiling water and whisk quickly until consistency is runny again. Pour into raspberries and whisk until well combined. Pour into the baking tray and place in the fridge. This should set in 30 minutes. Cut into squares and store in a container. Will last for about one and half weeks.
I did the same process but used 1 ¾ cup Inside Out Almond Milk, 3 tablespoons of cacao and 2 tablespoons of rice malt syrup and made choc almond jellies sprinkled with cacao nibs. These are great for kids too, beats any of the jelly lollies on the shelves that's for sure.
Enjoy!
Lynchy